| | |
| --- | --- |
| | Tie Downs |
Part No.

Description
WT lbs.
Price
R1152100
1" x 6' Padded Grip Ratchet Tie Down (per pair),
1800 lbs. breaking strength
3.0
$15.50
R1151600
1" x 10' Ratchet Tie Down (per pair),
3300 lbs. breaking strength
4.0
$19.60
R1151700
1-1/2" x 15' Ratchet Tie Down,
5500 lbs breaking strength
3.5
$19.60
R1152500
2" x 25' Heavy Duty Ratchet Tie Down,
10,000 lbs. breaking strength
6.3
$26.80
R1152300
1" x 6' Camo CamBuckle Tie Down (per pair)
1500 lbs. breaking strength
2.4
$13.60
R1227000
1" x 10' Ratchet with hooks,
900 lbs. breaking strength (clamshell)
1.1
$6.00
R1272700
2" x 27' Ratchet Tie Down w/Flat Hooks,
10,000 lbs. break strength 9clamshell)
---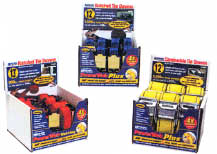 Tie Downs
Part No.

QTY
Description
WT lbs.
Price
R1170000
1
1" x 13' Ratchet Tie Down,
900 lb. breaking strength
1.0
$7.60
R1169900
1
1" x 12' Ratchet Tie Down,
1500 lb. breaking strength
1.0
$6.85
R1170200
1
1" x 6' Ratchet Tie Down,
1500 lb. breaking strength
2.0
$6.50
R1034200
1
1" x 6' Cambuckle Tie Down,
1200 lb. breaking strength
1.0
$5.95
---
Bungee Cords and Tarp Straps
Triple Strength Bungee Cords are the finest stretch cords available. These patented products have high tensile strength steel hooks that are three times stronger than most conventional hooks. Hooks are coated so they won't scratch or mar. Color coded inserts quickly identify cord length.

Standard Duty Bungee Cords feature molded hooks to prevent rust and corrosion; coated steel hooks have extra wide openings to improve fit and performance.

Tarp Straps are engineered to outperform the competition in cut, tear and strength tests. UV-resistant EDPM rubber maintains strength and performance in all weather conditions.
Part No.

Description

WT lbs.
Price
R9008600

12 pc. Heavy Duty Bungee Cord Assortment:
3 Mini,
3-18' x 8mm,
2- 24" x 8mm,
2-32" x 9mm,
2-40" x 10mm,
2 Canopy Ties

1.6
$6.70

R9008400

24 pc. Heavy Duty Bungee Cord Assortment:
6 Mini,
6-18' x 8mm,
4- 24" x 8mm,
2-32" x 9mm,
2-40" x 10mm,
4 Canopy Ties

3.3
$12.95
R9009500

6 pc. Heavy Duty Bungee Cord Assortment:
2-18' x 8mm,
1- 24" x 8mm,
1-32" x 9mm,
2 Mini

1.0
$5.40
R9133800

Triple Strength 7 pc. Bungee Cord Assortment:
2-18' x 9mm,
2- 24" x 9mm,
1-32" x 9mm,
1-40' x 10mm,
1-52" x 10mm

2.0
$10.70
R9133900

6 pc. Tarp Strap Assortment:
2-15",
2-21",
2-31"

2.0
$6.85
---
Universal Anchoring System

400 lbs. Safety rating
Heavy Duty chrome plate finish for durability and good looks
Heavy stainless steel top plate is sized to fit all vehicles
Soft gasket prevents scratching of all painted surfaces
Stainless Steel Anchor plates (2) provide exact fit for all vehicles
---
| | |
| --- | --- |
| | HEAVY DUTY TRAILER HARDWARE AND BED ANCHORS |
| | | | | |
| --- | --- | --- | --- | --- |
| Part No. | Description | WT lbs. | Price | |
| R9155000 | HD 3/8" Bed Anchor, per pair, 1-3/4" x 4", 1400 lb. capacity | 2.0 | $17.59 | |
---
Truck Anchor Points

Safe and secure tie down attachment with no drilling of truck
#R9250900 fits all trucks with or without bed liners
Rust-free, triple chrome plating
Part No.

Description
WT lbs.
Price
R9250900

Universal Chrome Anchor Points, per pair

1.5

$10.58

R9252200

Fits dodge Ram 94-04 and
all Chevy Silverado's, and GMC Sierras, per pair
1.0

$6.61

---
Tow Ropes and Straps

High quality polypropylene braided rope with rust resistant zinc plated hooks

Tow ropes also include a protective sleeve to help protect the products from cuts and abrasion

Tow straps are made of Heavy Duty, 10,000 lbs. capacity Power Web webbing with zinc plated forged hooks
Part No.

QTY
Description
WT lbs.
Price
R9161600
1
5/8" x 14' Tow Rope,
6800 lbs. breaking strength
3.0
$9.60
R1017600
1
2" x 20' Tow Strap with hooks,
10000 lbs breaking strength
2.4
$16.40
R1017800
1
2" x 20' Tow Strap with Loop Ends,
17,000 lbs. breaking strength
2.5
$23.20
---
Truckbed Cargo Net

Safely secures cargo inside back of pickup trucks

Easy to install and holds up under extreme weather conditions

Adjustable for all trucks
| | | | | |
| --- | --- | --- | --- | --- |
| Part No. | Description | WT lbs. | Price | |
| R9500500 | 60" x 78" Deluxe Bungee Truck Net | 2.75 | $21.90 | |
| R9500600 | Adjustable Heavy Duty Truck Cargo Net | 2.13 | $19.60 | |
| R9500100 | 48" x 60" Net for Roofs and Cargo Racks | 1.50 | $12.90 | |
---

Rola Cambuckle Tie Downs
| | | | | |
| --- | --- | --- | --- | --- |
| Part No. | Description | WT lbs. | Price | |
| R59202 | 1" x 8' Cambuckle Tie Down w/hooks 900lb. Break Strength | 2.0 | $16.95 | |
| R59203 | 1" x 15' Cambuckle Tie Down endless 900lb. Break Strength | 2.0 | $18.95 | |